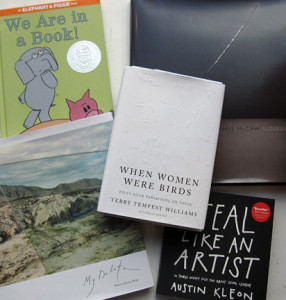 by Terry Tempest Williams
Written by one of my favorite authors, this is a book about voice, silence, motherhood, family, loss and creativity. One of the highlights of my year was seeing Terry read from it at Commonweal in May – you could hear it too, thanks to the New School's podcast.
by Rebecca Norris Webb
It is a rare thing in my experience for a photography book to possess the depth of emotional content that this one does. Rebecca Norris Webb made this series of powerful photographs after the untimely death of her brother, and I could feel her grappling with the edge between the living and the dying in these pictures. Her handwritten text runs throughout the book adding personal and poetic meaning.
Chris McCaw has created a fabulous series of photographs that are simple yet profound renderings of the path the sun and moon make across his paper negatives – literally burning the paper at times with the extreme length of exposure. I love how one of the very first images has a burn mark right through the paper page as if it were one of his prints – it's so tactile and succinctly describes his process.
by Mo Willems
With two young girls in my house, most of the books I read are for the 2-4 year old. Mo Willems is a master in that category. This is my personal favorite among his many wonderful titles, because he did something so clever in this book that breaks down the distance between the reader and the characters of Piggie and Elephant. I will let you read it to find it out, as it offers a good chuckle for kids and adults alike.
by Austin Kleon
I am always on the look out for a good book about the creative process — this is my pick for 2012. It is light-hearted in size and style, but the wisdom is spot on. One of my favorite bits of insight was the permission to work analog even in this digital age – to work with the tools that best suit your own rhythm. This book is one I am keeping in the studio to flip through whenever I need a little creative inspiration.