OPEN STUDIO
Saturday & Sunday, April 29 & 30, 11am – 4pm
Come visit my studio in Muir Beach, CA where you can learn more about my creative process and explore a wide selection of my mixed media art. I will have layered collages, fine art prints, bottle sculptures, and a selection of books  – including my monograph Offerings and the children's book, The Wolf Who Ate the Sky – plus notecards and more. In addition, my neighbors, Wendy Johnson & Peter Rudnick, will be opening their home nursery next door. The studio address is 1815 Shoreline Highway. It would be delight to have you stop by!
For those of you who cannot attend, please know the studio is also open by appointment – just send me a note to set up a time. And I can also ship art and books if coming to Muir Beach is too far.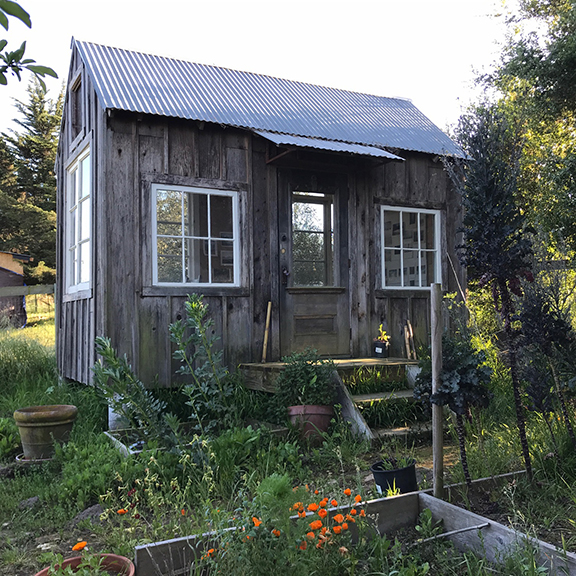 IN CAHOOTS ARTIST RESIDENCY
July 2023
I am so grateful to have been accepted into the artist residency program at In Cahoots in Petaluma, CA. I will be spending a week working inside this sweet cabin. As their web site says, "In Cahoots Residency is a place of collaboration and creative energy, a rare opportunity for uninterrupted work time as well as dialog with other artists. The residency provides housing and studio space to emerging and professional artists working in a variety of mediums. Our pastoral location and light-filled studios for book art, letterpress, writing, and printmaking inspire artists to make new discoveries and leave with a renewed passion for their work." Learn more at www.incahootsresidency.com.
RIPPLES
An exhibit at UC School of Law San Francisco
May 2022 – February 2023
Three of my large-scale Milagro pieces were installed at the UC School of Law San Francisco in their newly renovated campus as part of a group exhibition, called Ripples, curated by Esther Mallouh. Other artists include Beth Davila Waldman, Melissa Mahoney, Nellie King Solomon and many more. There was a Community Celebration for the exhibition on Thursday, May 26, 2022. See photos from that event by clicking here. And read more about the exhibition by clicking here.
BOLINAS MUSEUM
Permanent Collection Exhibition
On view thru December 31, 2022
I am delighted that this piece, entitled Sanctuary #3, is part of the Bolinas Museum's Permanent Collection Exhibit, on view through the end of this year. The museum is open Friday – Sunday. Also on view are some other wonderful shows including a group exhibition on called Pacific Rise: Ocean Health.
This piece is from the series I call Sanctuary: "These images are grounded in place. Coastal Marin County in Northern California has been a source of comfort and inspiration for me for over thirty years. By bottling images of this area and then re-photographing them against a field of blackness, I isolate and transform them into touchstones of an inner territory that is simultaneously wild and peaceful."
CENTER FOR PHOTOGRAPHIC ART
"8×10 Exhibition"
September 8 – September 29, 2022
So happy to be able to support the Center for Photographic Art by participating in their benefit exhibition & online auction again this year. Pictured here is my donation – an archival pigment print called Incantation #8. The online auction will open for bidding starting Thursday, September 8 at 9am. There will be an in-person opening reception in the gallery on Saturday, September 10, 4:00 – 6:00pm. I invite you to take a look and support this wonderful photography organization!
ART IN THE ORCHARD
McEvoy Ranch, Petaluma, CA
August 20 & 21, 2022
This past August, I participated in "Art in the Orchard" at the McEvoy Ranch in Petaluma, CA. Visitors strolled through their Tuscan olive orchards and viewed work by over twenty-five professional artists. The address is 5935 Red Hill Rd. Petaluma, CA. Learn more here.
LEAPING CLEAR – Fall 2021 Issue
So delighted to have my new pieces from the Invocation series featured in the online publication, Leaping Clear. The team behind this publication "believe that art of value is created freely and speaks to the deepest human aspirations." The fall 2021 issue offers a rich array of poetry, essays, visual art and more. 
"PLACE and BEYOND"
an exhibit at D'Ark Room in Seoul, South Korea
April 30 – August 31, 2021
This group exhibition features my book Offerings plus prints from Invocation and Sanctuary. It also includes works by Bryant Austin, Linda Connor, Barbara Bosworth and more. Learn more about it at datzpress.com.
"STAGED PHOTOGRAPHY"
an online exhibit at Thinking About Photography
March – June 2021
This group exhibition features my series, Evocations,plus work by other artists who "stage" their imagery. Learn more about it at thinkingaboutphotography.com.
ONLINE ARTIST TALK for Center for Photographic Art
March 2021
I recently gave an online artist talk for the Center for Photographic Art in Carmel, CA. This Zoom presentation included a discussion of several bodies of work and my latest book Offerings, as well as insights into my creative practice and studio life. It was recorded and if you missed it, please contact me and I can send you a special link to view it. 
Offerings at the Printed Matter Art Book Fair
February 2021
Offerings was included in the 2021 Printed Matter Art Book Fair in the online booth for Datz Press. There were so many wonderful online talks and videos offered with this event – many of which are still accessible even after the fair. I was honored to have a video from my studio about the book, Offerings, included as part of Datz Press' presence at this event, which you can watch by clicking here. 
BOLINAS MUSEUM BENEFIT ART AUCTION
August – September 2020
The Bolinas Museum is a charming and inspiring cultural institution in West Marin and I am so happy I can support the great work they do with exhibitions and programming by donating this print, Sanctuary #7, to their annual benefit auction. The series Sanctuary is about honoring places that are both wild and peaceful. This print features an image of crab buoys just off the coast of Stinson Beach. You can view it at the preview exhibition from August 22 – September 11, which will be followed by an online auction with a live virtual event on Saturday, September 12. Learn more at bolinasmuseum.org.
NEW BOOK: Offerings

I am delighted to share that my first monograph has been published by Datz Press in Seoul, South Korea. Offerings features five series of my mixed media photography created from 1996 to 2018. This monograph was designed by Younghea Kim, Sangyon Joo and Kwan Hoon Lee at Datz Press with a text by curator Anne Veh. Measuring 18.5 x 22 cm, it has 100 pages featuring 49 artworks. It has been published as a limited edition of 300. To learn more…
DATZ MUSEUM – Exhibition and Publication
October 2018 – February 2019
I had the great pleasure of being part of "Journey of Transformation," a four-person exhibit at the Datz Museum in Seoul, South Korea. Over twenty pieces from the series Sanctuary and Invocation were displayed along with works by Minny Lee, Bryant Austin, and Hendrik Paul. In honor of the exhibit, Datz Press produced a publication, called Gitz: Process and Attitude, which includes a very thoughtful interview with me by Anne Veh. I was blessed to travel there and be part of a series of events including artist talks and receptions in the fall of 2018.