Fall Open Studio
October 5 & 6, 2019, 10am – 4pm each day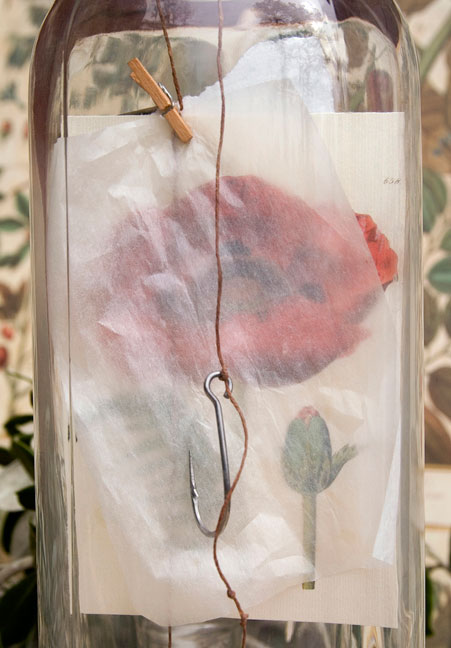 Come visit my studio in Muir Beach, CA, learn more about my creative process and view a wide selection of my mixed media collages, prints and bottle sculptures. My new monograph, Offerings, has just been published by Datz Press, and I will have a signed copies available for sale. In addition, there will be copies of Gitz: Process & Attitude, the South Korean publication created in conjunction with my exhibit there earlier this year, and signed copies of the children's book, The Wolf Who Ate the Sky. And there will be notecards, local honey and lavender, and my next door neighbors, Wendy Johnson & Peter Rudnick, will open up their Dragon Coast Nursery, where you can find beautiful perennials, vegie starts, fruit trees, succulents and more. This family-friendly event also includes art activities and tea and treats.
The address is 1815 Shoreline Hwy, Muir Beach, CA. To receive an invitation to this and other art events, please contact me or subscribe to my e-newsletter (by using the box on the right). 
*******
New Book – Offerings
Published September 2019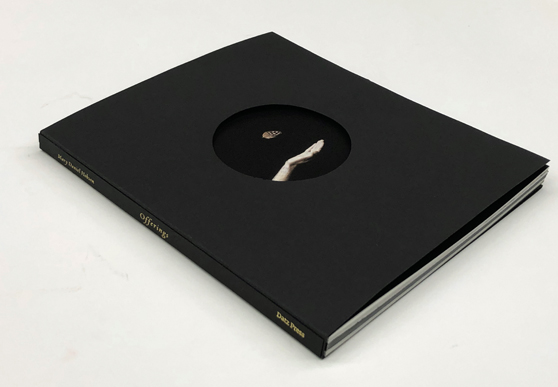 My first monograph has just been published by Datz Press in Seoul, South Korea! Offerings features five series of mixed media photography created from 1996 to 2018. Designed with an innovative structure by Datz Press, the book features two white sections that act as "wings" holding a black center. The white pages contain Evocations and Mapping the Body – accented by pages with lightly printed historic maps, a motif that runs through all of Hobson's work. The black pages feature three series –  Invocation, Sanctuary and Milagros. All the sections are hand-bound together with exposed thread, referencing the use of stitching in her collages. The softcover book is wrapped in a thick paper cover with text and maps printed in gold.To see more pictures, click here. 
This monograph was designed by Younghea Kim, Sangyon Joo and Kwan Hoon Lee at Datz Press with a text by curator Anne Veh. Measuring 18.5 x 22 cm, it has 100 pages featuring 49 artworks. It has been publisehd as a limited edition of 300. Copies are available at Datz Press, and at my studio for $65, and books can be shipped for a fee. To order a copy, please email me. 
********
Creativity & the Garden: A Workshop with Wendy Johnson & Mary Daniel Hobson
Sunday, October 20, 2019

This afternoon workshop offers a deep immersion in the natural world through garden wisdom, writing, drawing, meditation and more. We will focus on the Asclepias family with a particular emphasis on the California native milkweed tribe and its relationship to the monarch butterfly. We will explore their cultural history and symbolism, practical care, and homeopathic and medicinal applications. Our appreciation of milkweed and monarchs will be enhanced through art making. Participants will sow milkweed seed together and take home seed and their sowings. Tea and light snacks will be provided. The afternoon begins at the art studio of Mary Daniel Hobson and continues at Wendy Johnson's Dragon Coast Nursery. 
The workshop is open to 12 participants. The fee is a sliding scale of $50-$75. To register, please send payment to Mary Daniel Hobson either by check to 1815 Shoreline Hwy, Muir Beach, CA 94965, or by PayPal via this link.
About the instructors: Wendy and Danny have been neighbors for almost 20 years. Since 2010, they have been collaborating to host seasonal art and garden events in Muir Beach. Wendy was one of the original gardeners at the Green Gulch Zen Center and has been a mentor at the Edible School Yard. She is the author of Gardening at the Dragon's Gate. As an ordained lay dharma teacher, she leads meditation retreats nationwide. Learn more at www.gardeningatthedragonsgate.com. Danny is a mixed media artist who delights in the tactile and the symbolic. Her collages, bottle sculptures and prints can be found in collections such as SFMOMA, Twitter, and the Datz Museum in South Korea. She has taught art & photography for over 20 years. Learn more at www.marydanielhobson.com.
********
Datz Museum – Exhibition & Publication
October 2018 – February 2019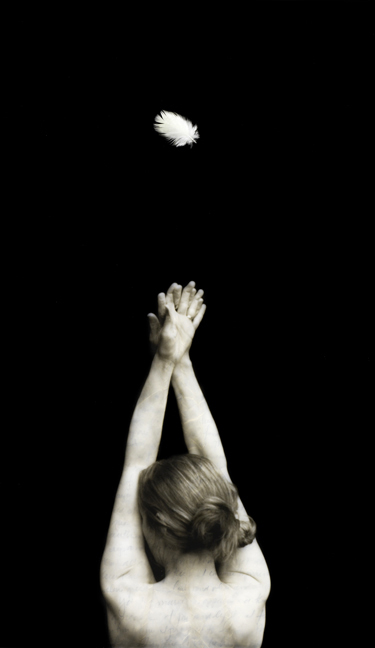 Over 20 pieces from Sanctuary and Invocation, were included in a four-person exhibition at the Datz Museum in Seoul, South Korea. Titled "Journey of Transformation," the exhibit included photographic work by myself, Minny Lee, Bryant Austin, and Hendrik Paul. 
In addition, Datz Press in Seoul produced a publication, called Gitz: Process and Attititude, featuring the nine artists who have shown their work at Datz Museum this past year. It includes a wide selection of my work, plus a very thoughtful interview with me by Anne Veh. I have a few copies for sale at my studio. Please contact me for more information.