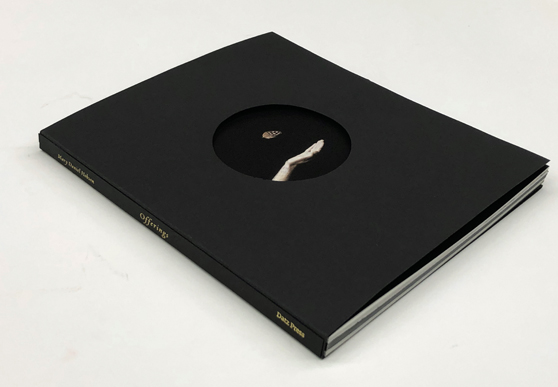 by Mary Daniel Hobson
published by Datz Press, South Korea, 2019
Offerings features five series of mixed media photography created by Mary Daniel Hobson from 1996 to 2018. Designed with an innovative structure by Datz Press, the book features two white sections that act as "wings" holding a black center. The white pages contain Evocations and Mapping the Body – accented by pages with lightly printed historic maps, a motif that runs through all of Hobson's work. The black pages feature three series –  Invocation, Sanctuary and Milagros. All the sections are handbound together with exposed thread, referencing the use of stitching in her collages. The softcover book is wrapped in a thick paper cover with text and maps printed in gold. 
This monograph was designed by Younghea Kim, Sangyon Joo and Kwan Hoon Lee at Datz Press with a text by curator Anne Veh. Measuring 18.5 x 22 cm, it has 100 pages featuring 49 artworks. It has been published as a limited edition of 300.
Copies are available at Datz Press and at Mary Daniel Hobson's studio for $65, and books can be shipped for a fee. To order a copy, please email the artist.