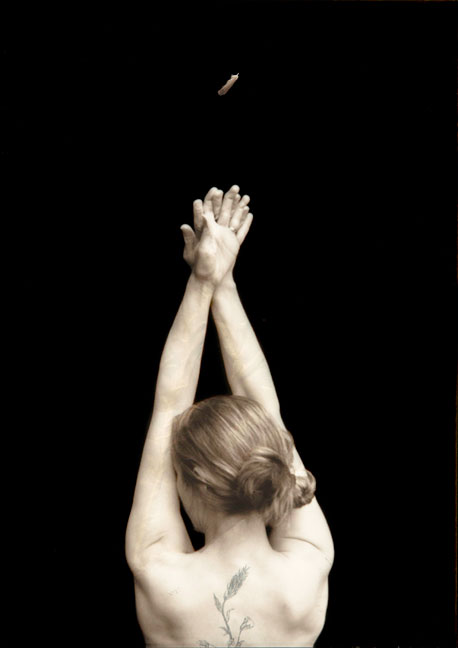 At the age of 14, Mary Daniel Hobson became captivated by photography and has been pursuing it ever since. Trained as an art historian, she was deeply inspired by her graduate studies of Surrealism to look below the surface and combine photography with mixed media. Whether building layered collages, creating intimate still lifes, or bottling photographs in mineral oil, she delights in the tactile and the symbolic.
In 1996, she created her first photo-collages in Mapping the Body, a seven-year series exploring the emotions and experiences housed in the body. This was followed by Milagros, in which she photographed people's arms, asked them to write a wish for a miracle, and then created collages as visual affirmations of each wish. She shifted to sculpture with Bottle Dreams, in which photographs and other texts are bottled in mineral oil as a metaphor for the fluid and fragmentary nature of memory. She began using still life photography to express emotional states of mind in two print series, Evocations and Sanctuary. Her most recent collages, called Invocation, explore the benevolence that can be found in darkness. Uniting all of her work is an embedded belief that artwork can convey the complexity of our psychological existence and help us make sense of and navigate an ever shifting world.
Hobson's work has been widely exhibited and is in numerous collections including the San Francisco Museum of Modern Art, the Albuquerque Museum and the Datz Museum in South Korea. Her first monograph, Offerings, was published in 2019 by Datz Press. Her art can also be found in books, such as Terry Tempest Williams' The Hour of Land (Sarah Crichton Books, 2016), and the limited edition artist book, The Man in Bogotá (Pacific Editions, 2015). She is also the co-author of the children's book, The Wolf Who Ate the Sky, and the former Executive Director of the Arts & Healing Network.